CMM-Manager
Fully featured CMM software: For CNC, manual and portable CMMs
CMM Manager comes with a Windows 7 user-interface which includes icons, ribbon bar style layout and a tooltips for graphics making it more interactive and informative. It also has a touch screen feature, multi-touch support, mini-tablet compatibility and instinctive navigation paths which provides added benefits and opportunities.
CMM-Manager : Windows 7 Style Interface and More
Among the number of tactile inspection software programs you can find today, CMM Manager is by far the most value-for-money CMM software. This software runs on almost all manual, portable CMM's and CNC. With this latest software, one can accomplish more in less time through automating the CMM Manager serial inspection or by taking a few points on the spot. The CMM Manager Software is task oriented and is considered as the highly intuitive tool which feature immediate walk-in measurements, single-click CAD measuring, collision-free CAD teach, real-time verification, virtual simulation and many others.
Apart from these rich functionalities of the CNC and manual fixed-bed CMMs, the CMM Manager software has smart features that work with arm measurements like the improved user guidance, same part programs as well as the automatic probe recognition for both the CNC and manual CMM. This why many companies have standardized the use of CMM Manager to take advantage of its increased productivity using the CMM Manager software as it efficiently and innately handle all the CMM brands that they use.
CMM Manager makes daily measurement an easy task through its fully integrated environment. You can easily check the dimension of a single part. You may also create a part program from CAD model and run the CMM Manager to inspect parts of the batch. You can also run look into a virtual inspection process before checking with the CMM Manager software. You can also use the CMM manager offline to teach program parts and use your CMM Manager for actual tasks on production inspections. CMM Manager Software also supports functions such as –
Walk-In Measurements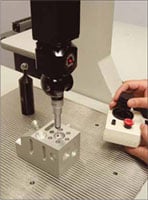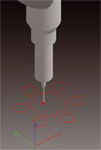 The CMM Manager software supports walk-in type inspection tasks such as spot checks, machine tool setup, quick inspection report and quick dimension check. It has a fully integrated environment which allows for a complete setup, feature construction, point collection as well as dimension and tolerance reporting. With the CMM Manager's ease of use, you can complete walk-in measurements within minutes!
Teach Part Programs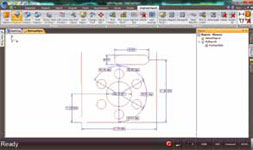 The CMM Manager allows for instructions or "teaching" using a part program. You don't have to use a text editor and simply perform inspection operations to teach CMM how to inspect the part. The CMM manager can record the procedure into a part program. Once the process is completed, your program will be ready for use. This "teaching" process significantly reduces the need for skilled programmers as well as the lengthy process of debugging which might affect the CMM Manager's production time.
Run Part Programs
CMM Manager also allows for a recorded program to run continuously inspect batch of parts. This feature lets users achieve the most output from the CMM Manager. This is because the CMM can automatically do the inspection task and ensure consistency in the inspection procedures and minimize the intervention of operators. CMM Manager software provides a delicate Run-mode environment to help you control the program instead of dealing with other unrelated tasks of programming or data collection for a single part.
Offline Part Programming
The CMM Manager software also lets you teach part programs even if it is not connected to the physical CMM or while it is installed as a stand-alone application on remote PC. The offline programming feature allows the CMM to complete actual production inspection tasks. Through the CAD part model, opt for the CAD features to measure and then CMM Manager will calculate all the required measurements and report parameters such as nominal values, collision-free path and proper probing angles. You may also manually input the dimensions and geometries from blueprints. You will need the available extensive inspection path simulation to help in verifying these part programs before you commit the CMM Manager to run the program online.
Graphical and Text Reporting
CMM manager has a top of the line reporting features for documenting and coming up with a visual presentation on inspection results. You can now come up with a report from you CMM Manager in an accurate, fast and easy way. CMM has different customizable reporting formats such as text reports and graphical reports to meet your inspection needs.
Complete GD&T Tolerance Reporting
CMM manager has a complete ASME Y14.5M-1994 GD&T Tolerance reporting feature. The results of tolerance tests may be saved via HTML format and this report can be viewed on your preferred web-browser or published on your intranet and shared with other departments.
CMM Manager Software is capable of the following: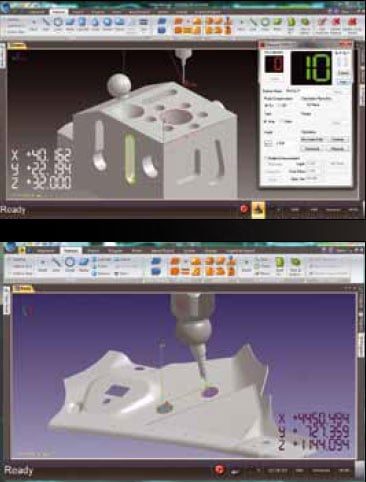 Fully Integrated System of Measurement

It is easy to learn and use with the task oriented working environment and an intuitive design interface.
Run quick dimension checks through the walk-in measurement feature
Automatic CAD measurements in single-click
Collision free CAD Teach features
Real-time verification and virtual simulation



Advanced Path Planning

Automatic probing angle options
Collision detection and avoidance
Optimization of inspection path
Automatic Tip Calibration System



Powerful Alignment Tools

Intuitive data alignment for more accurate and repetition of alignment reports for data points distribution n prisms as well as free-form structures.
Free-form surface CAD alignments
Prismatic data feature of 3-2-1 alignment



Reverse Engineering

Actual data measurements are exported to CAD and may be used to take on reverse engineering for more efficient and accurate results.
Actual data measured may be exported to ASCII, IGES and DXF file formats.
CMM Manager has a plug and play Interface compatible to most Manual and Portable CMMs and DCC. Some of the Direct Interfaces for the Manual and DCC CMM Managers are –
Nikon, Brown and Sharpe, LK, Zeiss CMM Software, Mitutoyo, Renishaw and others
Manual CMM's via direct interface or through Insight Metrology CMM Retrofit Kit
Portable Arms
Probing Systems such as the SP 25 Scanning, Renishaw PH10, Zeiss RDS and ST as well as Vision and Camera Systems
Large Scale Metrology
You can find other CMM Manager Software options in Standard versions which allows CAD import and export, the Lite Version which is limited to CAD exports only, the Native CAD Import which allows for import of Solid Works, UG, Pro-E and others, Gear Modules and the Vision modules.
To download the complete CMM Manager brochure click here.
For a live demo or more information, Contact us today!